How to Ensure your Home or Office Move is Eco Friendly
The surest way to make a mess out of your home or office move – and the environment – is to leave your preparations until the last few days. Planning your move at least six weeks ahead of time may seem like a chore, but you will be glad you did when you turn up at your new home or work premises with all items accounted for and in one piece. It also gives you the time to do right by the environment by minimizing trash, gas consumption and the use of harsh, toxic chemicals. Here are some office as well as home movers tips to make your move as green and stress-free as possible.
Time for a Clear Out
Moving house, whether interstate or around the block, presents the ideal opportunity to get rid of things you no longer need. If you leave it to the last minute, you are likely to panic and throw all your unwanted items in the trash. The greener option is to separate your goods into things to keep out (current clothes, toiletries, food, etc.); things to pack away (ornaments, out of season clothes, books, etc.); things to sell or give to charity; things to recycle and things to throw away.
Arrange a garage sale for your saleable goods or put them up for sale on eBay or Craigslist. The money you raise can be put towards your removal costs if you intend to hire someone to take care of the move. If you prefer not to get your hands too dirty, you can even hire rubbish disposal companies to come and sort your recyclables before disposing of everything correctly.
Choose Reusable Boxes or Crates
Packing is one of the few
processes where plastic can actually be the most sustainable way to go. Cardboard boxes may seem more eco-friendly due to their biodegradability but they often get damaged in transit and then have to be replaced – meaning more trees need felling. Plastic or wooden crates can be hired or bought, in which case you are likely to keep them for many years to come.
Cut Down on Bubble Wrap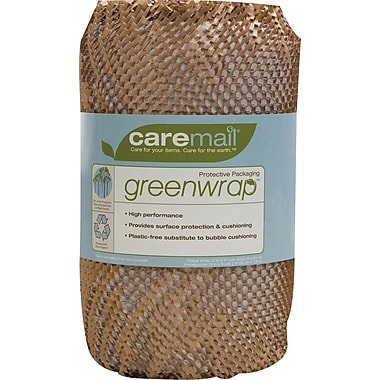 Bubble wrap may be great for protecting your valuables but it is a nightmare for the environment. An eco-friendly alternative is recycled packing paper which is biodegradable and can be recycled once you're at your destination. You can supplement packing paper with newspaper as long as this is on the outside so as not to stain your valuables with printers' ink. Towels, out of season clothing and blankets can also be used to wrap goods in (socks make great candle protectors). One exception to the above advice is when packing electrical equipment. All electrical devices should be wrapped in reusable antistatic wrap as they can easily draw in dust and fibers leading to problems further down the line.
Hire a Removalist or a Trailer
Whether you decide to hire a trailer and take care of your own removal or call in the professionals it is much better for the environment to complete your move in one go. Unless you have an electric vehicle, using your own car and making multiple trips means more gas which is bad for your pocket and the environment. When choosing your Removalist, check their environmental credentials. For example, some companies now run their trucks on biodiesel and hire in packing crates.
A Final Clean
There is nothing worse than moving into a new home only to find it dirty or full of junk. Before you say goodbye to your old home, consider the new occupants and give it a thorough clean, inside and out. Be kind to the environment by using non-toxic, natural cleaning products where possible and add some lemon and baking soda to your surface spray to add a dose of zingy freshness.
About the Co-Authors
Pamela Taylor is a professional writer who has an interest in keeping things organized and in order. Her appealing strategy? Never. Stop. Moving. She currently writes for MudanzasGou, a moving company in Mexico since 1900. You can follow on Facebook.
Eduardo Gou is an entrepreneur and enjoy's writing on the services sector during his free time. Especially on the moving industry. He currently own's MudanzasGou, a moving company in Mexico since 1900. Follow on Facebook.